Pasta, Passions and Pistols
First of all, I want to personally thank everyone who wished Mr. Right a happy birthday. He was so surprised and he definitely felt the blog love. And you all helped it reach 40 comments… well, you and Susanne's family and pets. That's an all time high for this little diner, thank you very much. I'm just thrilled it was for him.

Now I know you're all dying to know how he celebrated his 40th year. Well, Susanne asked. I'm just going to assume the rest of you want to know too.
Mr. Right... still all right with the surprise.

To start: my boss let me scoot out of work a little early so that I could prepare for the surprise shindig that was coming Mr. Right's way. I was able to do a lot in those few hours, without giving anything away before hand. I did the last minute shopping, baked some phyllo dough cups, apple pie with which to fill them, made some boss roasted garlic and bean dip, prepare the setting and got myself decked out too. Did you know that you can get a ton of stuff done if no one is there to disturb you? You did? Well, I forgot, but it was great to have the reminder.

Around 6 PM, Mr. Right walked into the house from work, noticed me right away and said, "Hey, you look really nice. What's going on?" The confusion came from the fact that although I was dressed to the nines (for me anyway), I was obviously cooking. (I had on the apron and had a spoon in my hand and we were staying in. Normally dressed up means going out.)

This man does NOT look 40!
I'd love him even if he did!
I gave him a great kiss, started to speak to him in my limited amount of French that I could remember from high school and then escorted him to the dining room. There displayed was our china and goblets (you know how often those get used…), candles, flowers and the booklets for each character for a murder mystery party. His eyes lit up when I told him that he had about 15 minutes to look French because others would be joining us soon. He looked like a kid at Christmas who just got his greatest wish. He dashed upstairs to "look his part," saying, "Don't tell me who's coming… I want it to be a surprise!"
Let the accusing begin!
(For the record, I chose an Italian-themed murder mystery game which featured Italian food, especially since it was set in a family-owned Italian restaurant in New York City. The box for the party came with all sorts of meal suggestions and recipes if you wanted the fancy dinner, character booklets, scripts and clues. It was easy to prepare this night of fun.)

The other guests began to arrive. Todd and Jenni made it first, and they brought along the most fabuloso tomato and mozzarella dish that he soaked in balsamic vinegar and served with bruschetta and a great Shiraz. Deee-vinah, I tella you.
The master of the side dish

Susan walked in soon after and brought her famous "Store-Bought Garlic Caesar Salad Kits." (It's her signature dish that I hope she never forgets.)


John came bearing a bottle of Chianti. The boy knows how to pick a great wine!

Don't ask. Please.
I'm not sure I know myself.
And not too much later, Jeremy and Lisa brought bread, drinks and their sweet newborn, Miah. (She was a doll throughout the meal!)

The menu for that night was as such:

Tomato and mozzarella with bruschetta
Caesar salad
Bread
Roasted garlic and bean dip
Olive oil with balsamic vinegar and dried roasted garlic
Homemade Spaghetti with angel hair pasta
Apple Teasers
Walnut Brownies
Wine, Tea, Soda and Coffee

We sat down to start the script and the dinner. It was so much fun! Some were "talkina Etalian", fingers were pointed here and there,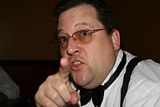 You do the dishes!

No you! It's my birthday!

voices were raised and parts were played. All the while we were laughing and enjoying the festiveness of it all. (And the great part is that, unbeknownst to me, each of the character selections was perfect for each of the players. One character was supposed to be pregnant and the one pregnant person played that part. One of the characters was a Frenchman and Mr. Right looked the part very well. One person was the psychic and she looked the part to the "T". And the priest? Well his wife called it the "interpretive priest" which means that he interpretted it in a much different way than she did, but it was hilarious!)
The priest... I think.




The priest and his psychic... I don't think she forsaw this get up!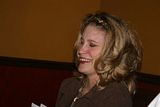 She did forsee the laughs...

By the time coffee and dessert were distributed, we were ready to reveal the murderer. And no, I'm not telling because you may actually want to play this some time. It's best if you don't know because then it is a lot more exciting for you.

We all celebrated Mr. Right's birthday, and we all had a lot of enjoyment out of it. Those are the kinds of birthdays are the best to me. Not only will Mr. Right remember it, but we all can savor it in the years to come. Well that and the fact that each of us will be looking forward to when we will do it again… with or without a birthday as an excuse.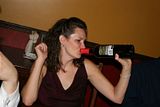 So help me! How did that get in there? Ummm, that's not me.
It's photoshopped, I assure you. I'd never do something like that...
Labels: Family