Glimpses of a Perfect Weekend
Pictures from the fabulous weekend
(But I don't have many because I left my camera in Kelsey's car on Saturday.)






At the restaurant Friday night... I see I caught Shannon's best side. (Sorry Shannon. I did have a good picture of you and Chili, but you closed your eyes and Chili didn't have on her glasses.)




Where do we all sit? Aggiejen and Kelly make their choices.




Antique Mommy, Faith and Holymama talking... and talking... and talking. And I loved listening to Faith's drawl. It reminds me of home.



The far end of the table. We told them all that if they would take showers next time, we would sit with them. A good life lesson to learn. (Hey, I do have a picture of Sandy. She's the one standing and leaning into the picture.)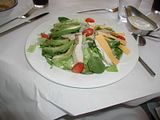 Ummm, a word to all restauranteers: Do not Kraft singles on a salad. It sets such a cheap tone. That's all I'm saying...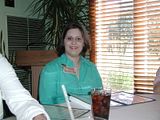 Aggie Jen with the perfect hair. She was entirely too quiet, but strong. I could not wrestle any Brownie Sundae away from her.
GiBee with her adorable Hunter. That baby boy is good. (I only had one shot of Sandy, GiBee's SIL who came for the sole purpose of tending to Hunter so that GiBee could enjoy us, but it didn't portray her in a flattering light. So Sandy, let me just describe you as beautiful from the inside out, and thank you for coming to GiBee's aid.)

See, I told you that Antique Mommy is beautiful. Here she is with her Sean and li'l old me.
(I love this picture!)
Well that's all I have because I talked more than I thought about the camera. Bummer, but the memories are great, even if I didn't capture them on film.

Labels: Blogging