WFMW - Home Makeover
Yesterday we put our house on the market.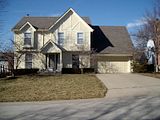 You want to see pictures of the inside?  Of course you do because it will help you help me.  Click
here,
 look at the house pictures and then come back please.
Now, what would you suggest that I do help with selling the house?  What seasoned advice can you give me when it comes to doing a FSBO?  What should or shouldn't we do when showing the house?  When you've gone looking for a house, what things have turned you off a house and what things made you go back for a second look?  Do's and don't's... Give it to me baby; I can take it all.
In other words...
HELP ME!!
Any and all advice will be greatly appreciated... as well as prayers.
Want to help a bunch of other bloggers who are stumped?  Head on over to
Shannon's place
to see if you can be the hero for someone else too!
Labels: WFMW