Homemade With Love - Reminders of Love
I must admit that I love this idea that
GiBee
of
Kisses of Sunshine
organized - a homemade gift exchange. Too many times in the years past, we have put ourselves in debt to "have a great Christmas."
If you are anything like us, we have very little money to put into Christmas, but we want to do something to celebrate God's gift to us. We have been attempting to correct our nearsightedness in the past few years by participating in a wonderful program in our city. To remind the children of how blessed we truly are (and to be honest, to remind us adults too) and to encourage the view that Christmas as a giving to others holiday, we will adopt a family who would not have any kind of Christmas otherwise or participate in some other giving program where others can enjoy God's blessings too. When we do this satisfying showing of God's love to others, we often don't a lot of funds left over to wrap for our tree. This situation has led to some creativity on our part to give something to each other.
Now, you must understand that I am not creative in any sort of manner, but God blessed me with one idea for Mr. Right. All it takes is a small photo album, a few pictures and some time on the computer. (I mean time other than blogging.) Oh, and some reasons that you love your mate. I call it a Love Journal.
Here's the album I found at Barnes and Noble.
I typed out and cut a title page to place in the first photo page. It says this:
"I love you because...
Just a few of the
reasons that
Shalee is in
love with
____."

(You can pick your own title. If you use mine, please remove my name and add your own.)
Randomly on the inside pages, I put in some pictures of Mr. Right and me, the family, some of just the kids, some of just Mr. Right and some of just me. Laced in between the pictures are pages that show several reasons why I love Mr. Right. I tried to match reasons to the pictures.
For example, on the page next to a wedding picture, I chose reasons that had to do with our relationship.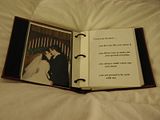 On the picture next to our daughter and son, I selected reasons that pertained to his fatherly skills.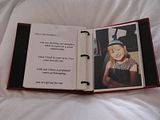 On the pages that were next to his picture, I defined the reasons that I loved him as a person.
On some of the pages, I had no pictures at all. I just continued to list reasons that I love Mr. Right.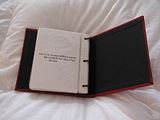 This gift cost me next to nothing, just some time and thought, but it gave Mr. Right a new appreciate of how I see him. It told him that I cared enough to put it into words. It gave him a hand-held reminder of my love for him.
He has it at his office so that if he's thinking of me and can't call me, he can still "hear" that I love him.
For some other fabulous ideas for a homemade Christmas, visit Kisses of Sunshine's
Homemade With Love
post for some gifts that may just work for you and your pocketbook.
Labels: Family