It's In The Bag...
It's that time of year again – the time where you put all your hopes into the hands of others and pray that the Random Number Generator will be your best friend time and time again…

If this is the first time at Shalee's Diner, then welcome! Coffee is on the house for you, and you've just got to try some of the strawberry pie… it's that good. As the sign says, I'll be serving the same slop as I always do. Now doesn't that just make you feel special?

If you're a regular, then welcome back. You're seats have been awaiting your derriere and as usual, pour your own coffee. I'll bring "your usual" when I get a moment. Oh, and I'm putting off the 1986 post until next Monday. I don't think anyone except my Mom or Chris will be disappointed about that delay...

This time I've got a fun bag to give away and it just shouts "Spring!!!" And to model it, I once again enlisted the help of The Girl.

Notice the brightness of the bag and those cute, adorable dots?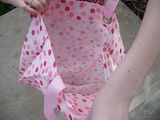 Did you see how deep it goes?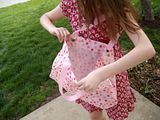 Just think of all the goodies you could sneak into the pool this summer if only you had this amazing bag!

If you don't need a new bag, can I interest you in a new hat?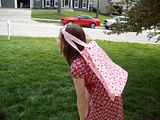 Or tiara?

How about an apron?

Hey, you shouldn't use the bag as The Girl is using it right now… Oooo, she'd better watch it! The Boy is getting bigger and stronger every day and one day, he's gonna let her know it. I'm just saying... (Oh, I hope I'm not the one around when that happens. That should totally happen on Mr. Right's watch.)

Alrighty little blogging buddies, if you would like to win this sweet carry-all, leave me a tip telling me what kind of suntan lotion you love to use.

And just to sweeten the prize: for every comment that the winner (yet to be determined by the handy dandy number generator) leaves on the Tuesday through Friday posts, up to one comment a day, I'll add a mini prize to the bag. (For example: If you're the winner of this giveaway and you leave comments on Wednesday's post and Thursday's post, then you get two addition prizes that will fit in the bag. Make sense? And don't ask me what they are because I only just thought of this little brainstorm, and now I've got to figure out what those prizes might be. Sometimes I'm too smart for my own good...)

So the more you actually talk to me, the more you can win! It's a win-win for everyone, especially me because I love chatting with y'all!

The drawing, open to ALL bloggers - no matter if you live in the tundra of Siberia or the tropics of South America or any place in between - will be left open until 12:00 CST Friday night (April 25th). I'll draw the winner on Saturday, and please, for the love of trying to make things easier on poor old waitress, would you be kind enough to make sure that I can easily contact you? If you don't have a blog, then please leave your email address so that I know where to leave the check tip.