WFMW - Almond Crusted Chicken
This recipe is a favorite of our from the South Beach Diet. It's the one
diet
way of eating to lose weight/lower cholesterol that I've tried a and really liked.
You don't have to fry your chicken to get that fried taste.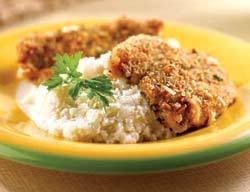 This dish is cooked in the oven and has a subtle nuttiness from the almonds.

Yields: 6 main-dish servings
Prep Time: 20 minutes
Cook Time: About 20 minutes


1 cup whole wheat bread crumbs (Use 2 slices whole wheat bread; toast, then pulse in a food processor.)
1/4 cup freshly grated Parmesan cheese (1 ounce)
1/4 cup almonds, finely chopped
2 tablespoons chopped fresh parsley leaves or 1 Tsp dried parsley
1 garlic clove, crushed with press
1 teaspoon salt
1/4 teaspoon dried thyme
Pinch ground black pepper
1/4 cup extra virgin olive oil
2 pounds skinless, boneless chicken-breast halves, pounded to 1/2-inch thickness and cut into 12 pieces
1. Preheat oven to 400° F.
2. In medium bowl, stir bread crumbs, Parmesan, almonds, parsley, garlic, salt, thyme, and pepper until mixed. Pour oil into pie plate.
3. Dip chicken in oil, then in bread-crumb mixture to coat. Place chicken on cookie sheet. Bake 20 minutes or until juices run clear when thickest part of chicken is pierced with tip of knife. (Do not turn chicken over.)
4. Arrange chicken on warm platter.
This recipe is easy as pie and delicious. We had it with mashed half potatoe and half sweet potatoes and it was wonderful! Add a caesar salad and you are set to go.
If you need the breakdown: Based on individual serving.
Calories: 383 Total Fat: 16 g Saturated Fat: 4 g Cholesterol: 91 mg Sodium: 730mg Carbohydrates: 15 g Fiber: 1 g Protein: 41 g