Open House at Shalee's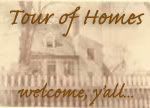 I just love going and seeing other people's places. I like seeing where they make their meals, which closet they shove all the junk, who makes their beds and whether or not they have lots of extra toilet paper available in case it runs out.
So imagine my delight when I see that there will be a tour of homes on July 28th... I am simply thrilled to have a chance to see you in your place, where you are you and where your family calls home.
I suggest that you head on over to
Boomama's
to see what I'm talking about. She's the brains/bronze behind this idea. I bet y'all are gonna love it too. And let your cameras do the blogging...