What's In Your Wallet? (Use the viking accent.)
Kelly at
Love Well
tagged me for this cute little purse meme, and I thought hey, "Hey, that's better than the drivel I was going to offer so let's do that."
Lucky you.
It just so happens that I'm a "one purse" woman, so what you see is what you get. I'm pretty faithful to it until I have the need to replace or exchange it. I don't mean that I don't have other purses. I mean that I'm not a purse exchanger who has a new purse for each outfit. That's so fashion-conscious that it makes my head hurt. I'm lucky to get out the door with my pants zipped and my shoes tied.
On the flip side, I just bought my new purse and I couldn't be happier. I found it at Bath and Body Works (Used your gc, Nate - Thanks!) It really came with the Sweet Pea collection inside (which I love), but to be honest, I bought the whole thing for the purse. It was that cute to me.

Doesn't it just scream, "Spring! Summer! Fun! Not a care in the world! Let's go play!"



Ummm, so I don't show the inside too often...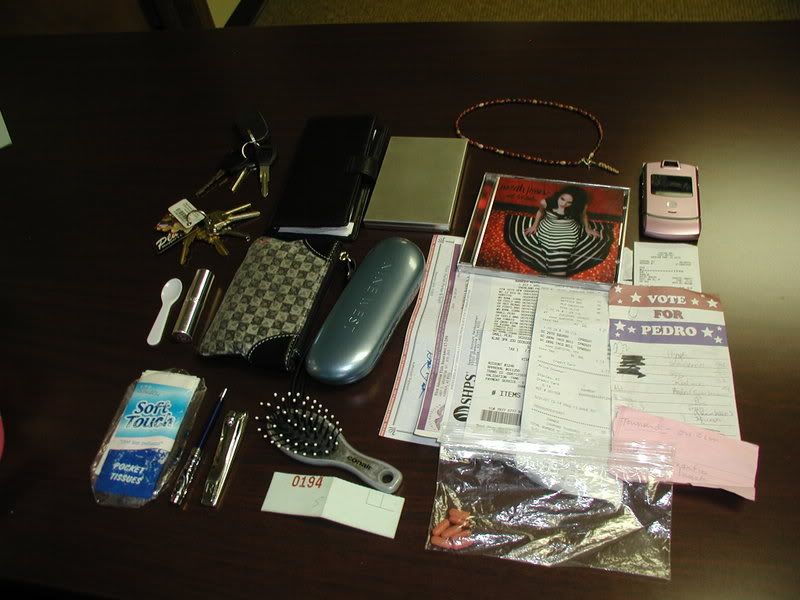 Look at all that stuff! How did I get all that in there?
Now normally I don't carry a CD in my purse, but I want my boss to listen to it. I think it's right up his alley. By the way, it's Norah Jones' latest CD
Not Too Late
and it's fabulous. I love her sultry voice and the way that she blends pop, soul, folk, and country with a seasoning of jazz. She writes her own music with her boyfriend Lee Alexander who is also the bass player; the songs are real, lively and sticky - I mean that the songs stick with you after you've listened to them. I've been singing the second song on the CD for the last day and I only listened to it a few times. Can you tell that I love it? And sadly, no. I wasn't given the CD as a review...
I've got all the essentials of a mom - keys - one set for cars and one set for work; checkbook; wallet (with little money); tissues; shopping lists; papers with notes written on them; lipstick; reading glasses - they're the new addition to my ever increasing age, but I only have to use them when my eyes are tired; checks that need to be deposited in the bank; a necklace that Mr. Right made for my birthday 3 years ago; the pink cell phone that I didn't want because it's pink (but I like it now); ibuprofen in an expensive container; toenail clippers (I don't know how
those
got in there!); a drycleaning ticket that I kept forgetting to use until I called Mr. Right and he finally went to go pick the stuff up and my little pen. However, my favorite discover upon unloading my purse is the little spoon... Hey, you never know when you're going to need to taste some ice cream or some other equally yummy dish that will require a tasting spoon. Always be prepared, I say. Always be prepared for any emergency.
Labels: Meme