Gatlinburg - Day One
The wonderful B&B where we stayed
Good morning world!
Beautiful peaks to great the day
The finally started to peak through the clouds...
We love horseback riding.
I love my good-looking cowboy!
One of the hills through which we rode.
Riding by Douglas Lake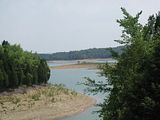 Love this shot!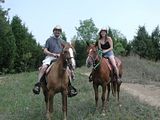 I finally met Shayne of
Better is One Day In Your Court
! She and her sweet man met us for lunch. We talked for about two hours and it was fun, fun, fun! She's exactly as I expected her to be: sweet, real and lovable. When Mr. Right and I were finally pulling out from the restaurant, I told him that I could totally see hanging out with Shayne and her man. Mr. Right then told me that he told Shayne that exact thing. I like it when we agree!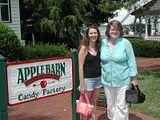 Obligatory cheesy pose... Just for you!
Labels: Anniversary Getaway, vacation