Oh The Places We Went!
God has given us blessings galore on this trip. We're feeling the warmth of his glory all around us.
First, when we checked into our hotel, the room smelled like smoke, which is odd considering it is a smoke-free establishment. So I asked if there were any other rooms into which we could be moved. The manager looked things over and upgraded our room to a spa king - the one that has a two-person jacuzzi. Ahhh, life is good. Plus, look at this great view from our room!
We lost no time in exploring the Smokey Mountains. We visited the visitors' center, bought maps for trails and walked our first trail. Only 1.3 miles long, Laurel Falls has a paved trail, making it accessible to anyone. And at the end of the journey, there was a beautiful waterfall. (Of course we left our camera in the car. Doh!) You'll just have to trust me that it was a wonderful site to behold.
Since it was so close to dinner, we returned to the hotel to ask the front desk attendant where she would recommend our getting a great pizza. Again we struck gold in her suggestion -
Best Italian Pizzeria
, a little pizza place off the strip that had excellent fare. I highly recommend it if you're ever in Gatlinburg and want great food.
Morning found us hitting one of the trails we longed to hike. I really wanted to hike a portion of the Appalachian Trail since reading about it in
A Walk In The Woods
. Just 4 miles, Charlies Bunion was supposed to lead to some beautiful sights. Here is the beginning of the trail at Newfound Gap.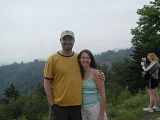 (I want you to notice all the clothing changes... We arrived at the Gap and realized that since it had an elevation of only 5000+ feet, it was much colder than we imagined. See the jeans and change of shirt? You'll see different things as the trail continues.)
Doesn't this just feel cold?!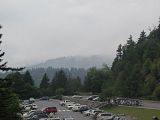 Beginning of the trail... it looks so calm and inviting, doesn't it?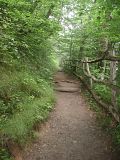 Here is Mr. Right on some small roots on the trail.
Here are some of the many rocks we had to climb over on the trail.
I'll just let the pictures speak for themselves for a while.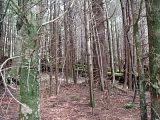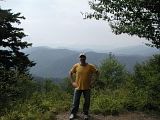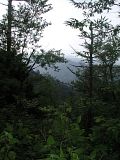 After 2 and a half hours, we finally made it to Charlies Bunion. Whew.
It was well worth the walk! Look at that gorgeous view... And in case you couldn't tell, we are sitting on some rocks that jut out over the mountains. There is nothing but sheer cliff below that area. (And I won't tell you how I hugged and inched my way up them to take that picture. Then you would know what a really big chicken I am...)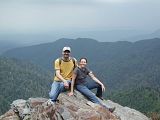 But it's where we made our reservation for lunch. And tell me this, have you ever seen an eating place with such a spectacular, breathtaking view?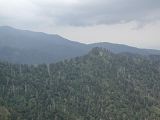 Here we are dining on wine, bread and cheese. Such a grand meal for such a grand atmosphere...
And amazingly, it only took us 2 hours for the return trip on the trail. Going down hill helped some.
The beautiful creek that called Mr. Right's name. Not mine, though. The dry ground was calling mine.
Next we did an auto tour because to be quite honest, our legs were like spaghetti noodles. When we arrived at Clingman's Dome, it was really cold. A storm was moving into the area at a rapid pace.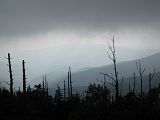 So we booked it out of there. We're no dummies! On the way down, we were given the gift of seeing a young black bear. We were told not to expect to see any, but there he was just running around the road. By the time we whipped out the camera, however, he had taken off through the side brush and we couldn't grab a picture of him in time. But what a treasure it is in my mind.
We're beat and we have a fun drive/hike planned for tomorrow, not to mention a white water rafting deal. But to be honest, I'm kind of hoping that one gets cancelled due to weather. That water was WAY colder that I expected it to be. But if not, you'll find me in the jacuzzi tub. And that will be a great way to end an anniversary night.
Labels: Anniversary Getaway