Fall, Y'all! Bloggy Giveaway
Better late than never is what I say!
Welcome to my addition to the
Fall, Y'all! Bloggy Giveaway
 at Bloggy Giveaways - the place where good stuff can be found and friends can be made overnight. I mean, what speaks better to really grand friendships than bribery that says, "Hey! Come to my place and visit me. I'm really, really nice! See? I'll prove it. I have something really nice to give to someone who will visit me!"
Yeah. I'm all over that. Because really, I need all the help I can get.
I missed the last giveaway due to circumstances that weren't on my control. (But really y'all, can you blame me for wanting to go on a week vacation with the man of my dreams and my reality rather than staying home and visiting all the beautiful sites in the giveaway? I mean, we're talking really quality time in the most beautiful setting that I've seen in a looooooong time.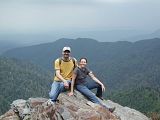 See? I couldn't have possibly visited everyone when I was on my own dream vacation getting the best giveaway present possible – Mr. Right's heart. Sigh. I love that man.)
Where was I? Oh yeah, the giveaway.
So I thought I would give away something that is related to Shalee's Diner. And if you read me at all, you know I love me some pie – apple pie in particular. MY interweb-famous apple pie if you want to know the truth of it.
So here's the deal: The winner of my giveaway will get this lov-er-ly pie dish AND my apple pie recipe.
Yes, you did read that right – the Shalee's Diner official apple pie recipe is on the block. Hey, I was serious about this friend thing.

Leave your comment below and I'll pick one blessed winner on Sunday – sometime after the Patriots-Colts game. I have to tell you though, I'm giving kudos and "I really hope I pick you" vibes to the commenters who share with me why Manning should make Brady cry on Sunday. (And if you don't know who they are, you need to email me and I'll give you the 4-1-1 on them both.)