Must. Take. A. Breather.
I haven't had a chance to post what I did last weekend because I've been swamped at work and at home.  Here's just a review of what I've had to deal with the past few days.
I took Thursday and Friday off from work.  You know what that means when I returned, don't you?
I had to think of a proper Shalee's Diner giveaway gift.
I had been looking for a great pie plate all weekend to no avail.  Finally, in the 11th hour, I found one I love for my giveaway.  Whew.  I'm not going to include writing the post because we all have that same time-consuming task.
Did I mention that Mr. Right ordered eight TONS of dirt to go around our house?  Guess who is helping to move it all, wheelbarrow by wheelbarrow?  I'm going to have some strong arms and a very sore back...
The boy thought it would be a lot of fun to bury tools in the dirt we're moving.  We're still looking for the crowbar.  Pray for him.  He's going to need it.
In the midst of all this physical work (gah! I'm not built for it!), we had roofers show up and begin work on our house.  I love that it's being done, but Hello!  How am I supposed to move dirt and how is my son supposed to find his "buried treasure" when you're throwing wood shingles and dropping supplies?!
The house is starting to have that "lived in" look... which is not a great thing around here.
Halloween... need I say more?
Since I'm up stinkin' early, I'm making time to tell you about this last weekend now.  Hey, better late than never!
I had the great blessing to visit with some very lovely ladies.  
See?  Aren't they just the most beautiful women you've ever seen?  
Antique Mommy
(who doesn't look her age AT ALL!),
Jeana
(who is just as witty in real life as she is on her blog) and
Melanie
, aka Chilihead (who is just as fabulous and funny as she is on her site)

The weather was perfect for our get together. Just look at the rising moon and the sunrises that we were able see. (Yeah, even on a trip, I can't sleep in. Sigh.)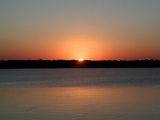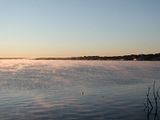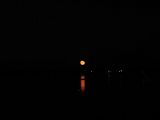 We made it our own sort of fall retreat which really means that we got together, drank some scrumptiously smooth wine, ate as if we were in college all the time, talked each others ears off and relaxed as only mothers without children can do.
It was a slice of heaven.
Labels: Blogging, Friendship, Life, MIRL