Anniversary Day
We filled our anniversary with so many things that we really wanted to do.
To start the great day, we feasted at the Pancake Pantry (a place that really needs to update their website, but their food is right on target. Their coffee is a different story. They really need to change their brand.) Starting the day with Pecan Pancakes and Swiss Chocolate Pancakes is an excellent way can't get much better.
Next we went to Cades Cove, an auto driving tour in the Smoky Mountains. Although it took an hour to reach it, we really enjoyed the two hour drive through that part of the Smoky Mountains. This path was different than Charlies Bunion because it was more open and grassy in the middle.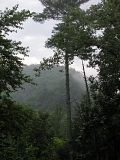 On the way into the Cove, we were able to see some of the wildlife. Here we have a wild turkey.
Next Mr. Right spotted a beautiful treat. He was able to get close enough to get a great shot.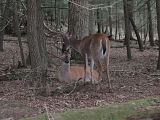 Look at that open plain with the mountains as a backdrop. Beautiful!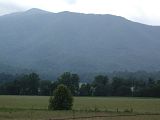 The clouds started moving in fast. We had a bit of rain during the tour, but it was warm and lovely.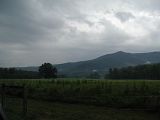 After the tour, we ate at a little tiny place called Ma's Kitchen. It had about six tables and we were so close to the kitchen, we could watch them make our food.
Finally we left for the white water rafting. Despite it being my suggestion and desire to do it, I really was dreading it. That water was going to be cold; I just knew it! I visualized sitting in the back, attempting to keep warm, but since God has a great sense of humor, we wound up in the front, while a very nice family from Baltimore manned the back.
I was right about it being cold! And some meany from another raft, seeing my apprehension when entering the water, splashed me good before we ever got on the boat... But it didn't take long to get used to the temperature and we really had a blast. Our guide kept running us into rocks (on purpose), which caused all sorts of laughter and splashing on our parts. We hit threes and fours on the river and never once did we tip. We even surfed the whites several times. And I got to ride the bull (sit on the very front of the boat) as we took some rapids. Boy was that fun, fun, fun! Halfway through the trip we all swam in the Little Pigeon River, coasting down a mellow part. I would definitely go again in a heartbeat!
Mr. Right and I ran back to the room for our anniversary dinner. I was all dolled up in a new dress and ready to hit the town. As we started walking to the restaurant, God - in his sense of humor mode again - opened the heavens and caused an immediate downpour. By the time we ran to cover, we were drenched! Although we were sopping wet, we were laughing about the hilarity of it all. We figured that we couldn't get any wetter, so we ran to the restaurant anyway. Arriving just minutes before they were going to close, we were welcomed into the restaurant with open arms. Then we feasted on lasagna and garlic rolls that were to die for... And the waitress gave us chocolate cake to top off the evening. Perfect way to end the night.
I just love my life.
Labels: Anniversary Getaway