36
I'm one of those women who loves birthdays. Love the attention. Love the parties. Love the hoopla. It doesn't bother me at all that I'm older, that I have a few more silver hairs than I used to have, that I just got my first reading glasses, that my body doesn't look much like the day I married... Okay, that last one doesn't bother me
much
.
I love the celebration of life, the idea of being recognized by friends and loved ones, the way that they tell me, "You matter to me, Shalee. I'm glad you're alive." That, for some reason, is what matters to me the most: someone saying, "I see you, and I'm glad you're here." I don't know why that resonates with me so much; it just does.
This morning, I received the best birthday wake-up call from Mr. Right. After sweet kisses, he brought me breakfast in bed (coffee
and
croissant
and
cinnamon roll - I don't know where he thought I'd put it all, but I loved that he was covering my breakfast tastebuds. He told me he tried to get
pain du chocolat
, but the french bakery ran out after a busload of kids came into the store. Oh what a beautiful man for even
trying
to get that for me!)
My daughter awoke really early, and she was excited to give me her card.
I know you can't see it, but the sticker on the bottom of the card says, "Thou shalt indulge." It's sitting on a picture of a huge sundae. That girl knows me too well.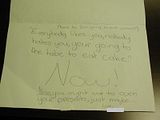 I love her sense of humor...
She also gave me an adorable coupon book full of cards for help with making dinner, help with making my bed, free snuggles, a movie night with her, a night to read with her and her making one of my favorite foods. I love the thought and energy she put into it.
The boy remembered to tell me happy birthday, and then he kept talking about birthday stuff... he was trying to say more than he should, but I just told him to go brush his teeth in hopes of distracting him. I don't think he's learned the fine art of "not giving away a surprise" yet. (Don't worry, Mr. Right. The distraction worked. I know "nuhsink"!)
And looky here... I've been blessed even from bloggityville, too.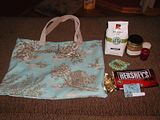 (Click on the picture to see the details.)
The adorable bag is a
Chilihead
original. I absolutely love it. It's perfect for carrying everything... books, papers, food into the movie theaters. Thank you Chili; I really wanted one of your bags!
The coffee, scrub and candles are from
Jeana
. I was so excited when I opened this gift. The scrub smells yummy and it's sitting by my sink so that I can use it often. The coffee is deee-licious, Jeana, and I think you've just made a new best friend with Mr. Right. He loves it as much as I do. (I had to share. He gets up before me plus he makes the coffee. I couldn't keep it from him even if I tried... which I won't do because I love that he makes the coffee. So thank you for your generosity, Jeana. I'm thinking of you with each sip.
The gorgeous bracelet is from
Shannon
. It's so me! It's fun. It's light. It's sassy. Shannon, with this sweet piece, you've brought my fashion status up quite a few notches. And believe me, that's saying a lot. Thank you.
And at the bottom you will notice the gift from
Antique Mommy
- dark chocolate and a loaded Starbucks card.
Oh my lands.
In case you can't tell, the candy bar has been opened already... And this morning, I used that wonderfully handy card to order
the
most fabulous (non-alcoholic) drink in the world of coffee - a Brevé Mocha - in celebration of life and all things coffee and chocolate in cup. Mmmm mmmm! Thank you Antique Mommy for the high-energy gifts! My boss, on the other hand, may have different words for you as I bounce off the wall...
So thanks to my ever-so-sweet bloggity friends. You've totally helped to start this year off right.
All you other bloggers/lurkers, would you mind doing me a birthday favor? I'll consider it my gift from you. My daughter said that it would be neat to have at least as many comments as number of years that I am. Would you mind giving a shoutout so that she can see what neat
really
is?!
Labels: All About Me, Birthday, Family, Life, Thanks