Looky What I Got!
My sweet friend
GiBee
was so generous. She sent me a
wonderful birthday gift too
! (To be honest, I received it about a week and a half ago, but I couldn't find my camera. But now that I've found it, I'm finally posting a blog thank you. However, I did have the wherewithal to thank her when I did receive it. Not to worry, Mom; I'm watching my p's and q's!)
So look at this sweet purse! My purse right now screams "SPRING!" When GiBee saw this little beauty, she said it yelled, "I need a cute cabana boy to bring me a drink with a yummy drink with an umbrella on the top!" And then she immediately thought of me.
I see a connection her... Shalee = lush Hmmm... not exactly the image I was going for, but hey, I can live with it. Heck, I'll even live up to the reputation if I
have
to.
I love it! What a cute strap! The stripes are fun and summery, the size is small, yet roomy enough for all my junk and it has great pockets. I have a feeling that this purse and I are going to have a wonderful relationship...
And to go with the "cabana boy" theme to the purse, GiBee sent me these perfect notepads. Look at how fun they are. And the best part is that they have beautiful scriptures on them relating to feet. I think I'll leave these at work to remind myself that my feet are for God's service no matter where I am.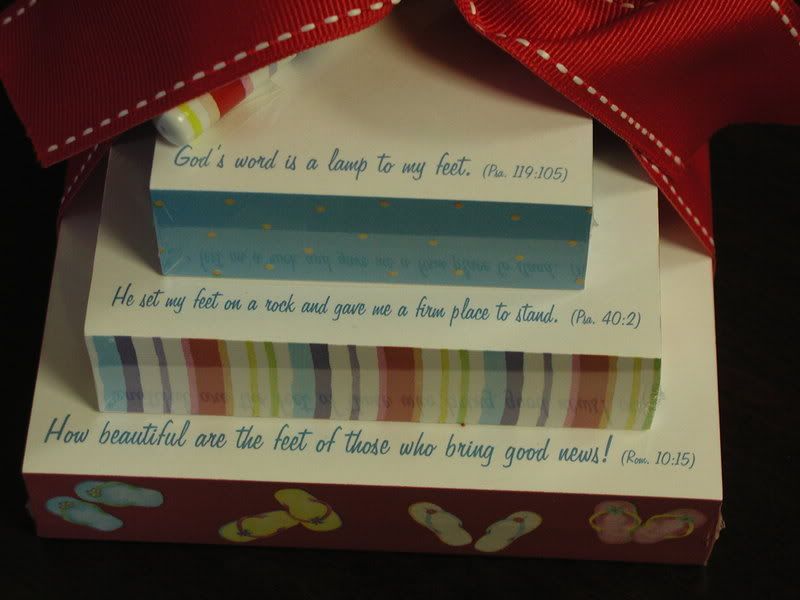 So
THANK YOU
, GiBee for your sweet heart and your kindness to me. I'm undeserving of it, but I'll treasure it. And each time I carry my new bag, I'll remember the friendship that I'm carrying with it.
Oh, and as a side note, Mr. Right is sick. I think it serves him right for having a fling and such a great time with
her
...
Labels: Birthday, Friendship, Thanks